Marques Johnson Interview, Part One
Meet Marques Johnson: From L.A. to Milwaukee and Back – Part 1
by Ray LeBov
Marques Johnson has always had a connection between Los Angeles and Milwaukee. Whether it's been on the court as a highly decorated high school and college player, as well as a multi-time NBA All-Star, or in the broadcast booth as one of the game's best analysts, his career has circled from his California home to the Midwest (and back) quite a few times. Basketball Intelligence's Ray LeBov recently sat down with Marques to discuss his long and diverse career as both a player and media member. Part 1 reminisces on the incredible stories from Johnson's high school, college and NBA days during the 1970s and 80s and has been lightly edited for clarity and length. RAY: How did you get started playing basketball? MARQUES: My dad was a high school basketball coach in Louisiana where I was born. He coached at Natchitoches Central High School, the pre-integration black school in town. He coached there in the late 50s, early 60s, and, according to what he and my mom both have said, during the quarter breaks or half time or timeouts I would take a basketball and dribble up and down the court. The packed gym would go crazy at this three-year-old kid "dibbling", as I called it, up and down the floor. He was the one that got me started. He coached every team I played on from when I was six years old until I was 13. He also instructed me in the backyard on a regular basis on fundamentals, footwork, up and under moves, conditioning, jumping. He was the one that first got me interested in basketball and enjoying the game. RAY: You were California Player of the Year in high school, then National College Player of the Year and then a five-time NBA All-Star. MARQUES: There are two high schools that served my neighborhood, Dorsey and Crenshaw. I started out at Dorsey. In those days, high school didn't start until the 10th grade, and I was a 14-year-old 10th grader. I had skipped a half a grade in middle school, so I was younger than everybody else. You had to be 15 to play varsity as a 10th grader. Being only 14, I played junior varsity for most of the season and got moved up at the latter part of the season and did really well. In those days, it wasn't like today where everyone knew, through social media or the press, who was coaching where and what was going on. And so my father did not know that the coach at Crenshaw, Willie West, had gotten a head coaching job. My dad and Willie had worked together for a few years in the 60s at John Muir junior high school. They were also on the same bowling team. They were good friends who talked basketball all the time. My dad knew that Coach West was at Crenshaw coaching the lower level, which was called B and C back in those days, similar to frosh and sophomore teams today. The varsity coach Jim Ryan left to take a job at Cal State LA. They promoted Coach West to the varsity my 10th-grade year when I was still at Dorsey in 1971. He won the city championship his first year. Daddy had a lot of respect for West's basketball knowledge so he decided to transfer me from Dorsey to Crenshaw going into my junior season. Daddy took me down to Crenshaw on a Tuesday night before I made the transfer. Coach West had open gym on Tuesdays. He was 31 years old and in great shape. He was just under six feet tall but could dunk and jump and run. When I walked into the gym, he told my dad, " You never told me you had a son!" Coach West put me on the team opposite of him so he could guard me. The whole time that he was guarding me, he was talking trash like, "Don't even think about scoring. I'm gonna lock you up." I was thinking, "What the heck is daddy getting me into? This coach is a trip! Do I really want to be a part of all this?"
It was a bit overwhelming, but I loved the challenge. Within the first two or three minutes, somebody on my team missed a shot, I soared to the top of the square and got a tip dunk. From that point on he stopped talking trash. He told my dad that he would love to have me come to Crenshaw for my junior year.
We had a great team and went undefeated but couldn't compete in the playoffs for the city championship because it was discovered with just two games left in the regular season that we had a kid who had been in high school for a half a semester too long. We were declared ineligible for the playoffs, but we had gone undefeated and were ranked No. 1 in the city. I made First-Team All-City and averaged about 17 points and 12 rebounds a game. Coach still says that that was the greatest team he had in his 39 years at Crenshaw. We started a front line of me at 6'5″, 6'5″ Renard Murray, another 6'5″ defensive stalwart named Maynard Brown. Our point guard was 6'4″ Reggie Mims. And Kenny Daniels was a 6'3″ athletic shooter. And we had a bunch of other tall athletes coming off the bench. We held teams to around 40 points a game that season. That was my junior year. My senior year, it was only me and one other returning varsity player, Lonnie Adams. But we had a great point guard by the name of Robert Smith who came up from the undefeated junior varsity team, along with Napoleon Gaither, who played at Drake. There was also Larry Bowles, who started for San Jose State in college. Robert Smith later played for the Denver Nuggets, with me on the Milwaukee Bucks and with the New Jersey Nets. When he was at UNLV, he was an outstanding player in the regional final. I think his junior year he led the nation in free-throw shooting. He was our starting point guard, one of the best point guards I've ever played with. Our backup point guard, Ed Waters, could have started for most teams. He set steals and assist records at Eastern Washington University that still stand today. His mother is Congresswoman Maxine Waters, and she had us involved with community activism way back in high school. We went undefeated again. There were three teams in the city that season that averaged close to 100 points a game. Everybody thought that we would not win the championship because Jordan and Jefferson High Schools were ranked above us, but we beat both of them. We defeated Jefferson in the semi-finals on a last-second tip and beat Jordan by five for the city championship. That was my two-year career at Crenshaw. We didn't lose a game either year and were city champions my senior year when I averaged 27 points and 18 rebounds a game. I had a phenomenal season, and I owe Coach West a lot of credit for building upon what my dad had already started as a foundation. It was a great time to play high school basketball in Los Angeles. RAY: That was a great era of high school hoops in LA. I was fortunate to be living there for three years in the early 70s, so I got to see you and most of the other great players. Next, you're on to UCLA. Tell me about that recruitment process. MARQUES: It was pretty easy for UCLA. They were recruiting a lot of good, Southern California talent that played the same position I did. There was Jackie Robinson, whose brother Slammin' Sam Robinson had been City Player of the Year a few years prior. Jackie was at Morningside where he played for Jim Harrick. Lewis Brown played at Verbum Dei as a 6'9″ power forward-center. And there was one of the guys that I played with at Dorsey, Ricky "Tex" Walker, who wound up going to UC Santa Barbara. They were recruiting all of us, and we were pretty much neck-and-neck and not sure which direction they were going to go. There used to be a summer tournament in Los Angeles. They've revived it the last few years, but it was really big back in those days. It was called the Watts Summer Games and was in response to the Watts riots in protest of rampant police brutality. They brought in teams from all over Southern California to have some diversity and some interaction with the white kids from the San Fernando Valley or from the Inland Empire that we never really had a chance to interact with before. In the championship game, Crenshaw played Morningside coached by future UCLA coach Jim Harrick. Jackie Robinson and I went head to head, and I had a great game. The UCLA assistant coach, elite recruiter Frank Arnold was in the stands. I had 37 points and close to 20 rebounds. Jackie Robinson was one of the greatest athletes to ever come out of Los Angeles. The dunk was illegal at that time (in 1972). During the course of that championship game, Jackie got the ball in the key and tried to dunk on me. I caught it with two hands right at the rim. He kind of fell back. He gathered himself again and came up and tried to dunk again. I blocked his second dunk attempt with one hand. And after the game, Frank Arnold told me that I was the player they wanted. He said "I'm gonna tell Coach Wooden to forget about these other guys. You're the guy that we're gonna offer the scholarship to." Then, in the Spring, the night UCLA played Memphis State during the NCAA championship game in 1973⁠—that was the game that Bill Walton went 21 for 22⁠—I was sitting in my den at home watching the game. Within 10 to 15 minutes after it ended, the phone rang in the den. My dad answered and told me that somebody wanted to talk to me but didn't tell me who it was.
So I got on the phone and heard: "It's Coach Wooden. Did you watch Game? What do you think" I said, "Great game, coach. Congratulations." He responded with, "We would love for you to be a part of this next year. Do you think you'd like to be a part of this?"
Looking back, it was obvious that he had it pre-arranged that if they won the game, this would be a great recruiting tool to use on the impressionable high school kids: Talking to Coach Wooden within 15 minutes after watching him win a national championship! RAY: So on to UCLA during Coach Wooden's great national championship run. In fact, when you won your sophomore year, that was his final title.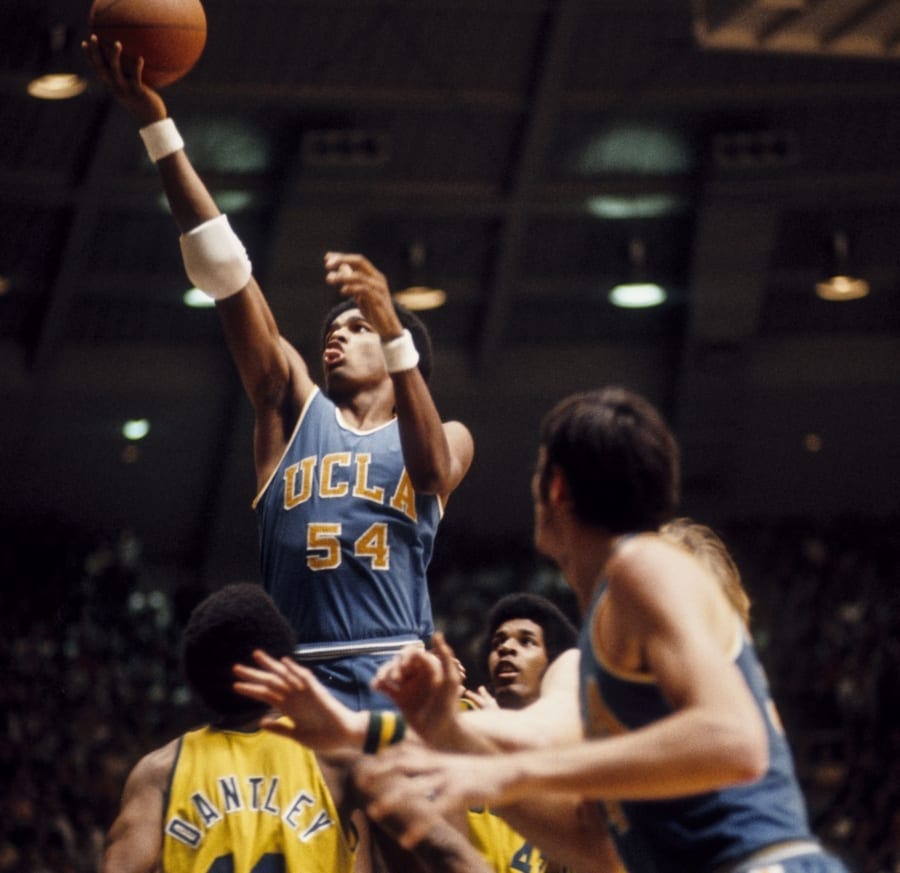 Jan 25, 1975; South Bend, IN, USA; FILE PHOTO; UCLA Bruins forward Marques Johnson (54) in action against the Notre Dame Irish at the Joyce Center during the 1974-75 season. Mandatory Credit: Malcolm Emmons-USA TODAY Sports
MARQUES: UCLA was 20 minutes away from home, but it was my first time being away from home. I was a 17-year-old freshman, and my first week of practice… and this is no exaggeration, Jamal "Keith" Wilkes blocked 60 to 70 percent of my shots when he was guarding me. It didn't matter if they were jump shots or layups, he was just locking me up. If I ever got by him, I had to challenge Bill Walton at the rim and he would be the cleanup man. He blocked the rest. After about three or four days of this nonsense, I called home crying like a baby. I told my folks that I had made a mistake and was not good enough to play there. I should have gone to UCSB, the University of California, Santa Barbara with Tex. My dad asked what the problem was. I told him that every time I took a shot, Wilkes blocked it. Daddy said the Wilkes was the best defensive forward in America and that I would be fine. And he was right. I started to get into a groove during that freshman year and wound up starting six or seven games. The most memorable game that everybody talks about was when Notre Dame ended our 88-game win streak. Digger Phelps coached that team, which had Adrian Dantley, John Shumate and Gary Brokaw. We played them on their court on a Saturday. A week later we had a rematch with them at Pauley Pavilion. We lost the game at South Bend to end the winning streak. They played great. To that point, I hadn't started any games. But I had a great game the next Friday. I had 20 points against Santa Clara who we beat by 50. The next game was against Notre Dame on Saturday. That was my first time starting as a 17-year-old freshman, on national TV against the No. 1 ranked team in the country. We wound up having a great game, and I scored 16 points and had seven rebounds. RAY: What about your sophomore year when you won the last of Coach Wooden's titles? MARQUES: My freshman year, we lost to North Carolina State in the Final Four semis in Greensboro, North Carolina. It was kind of unfair having us play North Carolina State, as great as they were, right in their own backyard. David Thompson, Monte Towe, Tom Burleson and Tim Stoddard (who played Major League Baseball for a number of years) were all on that team. We lost to them in overtime and wound up playing Kansas in the consolation game. Some of our seniors, including Keith Wilkes and Bill Walton, were talking about boycotting the consolation game because they felt it was meaningless, but they went on to play. My body wasn't really well-defined that season. I was just growing into it. I made the promise to myself that I was going to work out like crazy over that offseason. And it happened that the Nautilus weightlifting machines were placed in an area where only certain athletes at UCLA could use them for evaluation purposes. They were in the men's gym back in an area in the towel room. I worked out on them four or five days a week. I ran stairs. I did leapfrog exercises. A weightlifter showed me how to help my vertical jump. Track and field record-holders John Smith (440-yard run) and Milan Tiff (triple jump) taught me how to be better at running and jumping. I had my greatest summer ever playing basketball. I was jumping out of the gym and shooting the ball better than ever. Wayne Embry came to Pauley Pavilion to watch a pickup game that we were playing and he made a public statement that I was the best forward in the country, college or a pro, just from watching me play against a bunch of pros (including Sidney Wicks and Curtis Rowe). I was really primed to have this bust-out season my sophomore year. The Friday before we were to start practice, I was up in Santa Barbara, visiting my sister and my brother in law. We went to a smorgasbord and I wound up getting really sick. Turns out, I lost about 20 pounds in about five or six days. They wound up saying it was Hepatitis A, and so I had to sit out about a month of practice in the first part of my sophomore year. Coach was under doctor's orders not to play me a whole lot of minutes when I did come back. I wound up having a solid season averaging 11.6 points and seven rebounds but didn't have the kind of season I had been hoping to have. The silver lining, of course, is that we did win the national championship. I had a great game against Arizona State in the Western Regional finals with 35 points and 12 rebounds. Everything just came together and I was named the Outstanding Player. At the Final Four I had a good game against Louisville: double-figure points and rebounds. They were like a mirror image of us with Junior Bridgman and Wesley Cox and all these great athletes. They ran the UCLA high post offense with the cut off the center. That game went to overtime, but before it did, Louisville had a chance to seal the game. They had a player by the name of Terry Howard who had made all 28 of his free throws that season. We were down one and fouled him, and he missed the front end of the one-and-one. If he had made both, it would have sealed the deal since there weren't any three-pointers back then. I fed Richard Washington in the post and he made a turn around jump shot with scant seconds remaining on the clock. After the game, we were jubilant in the locker room. We're going to the championship game on Monday night! Coach Wooden told us to pipe down. He said that he was as proud of us as any team he had ever been around. He said "You guys weren't expected to be as good as some of my past teams, but you fooled everybody. You surprised everybody. You surpassed expectations. You've been a pleasure to work with. "I just want to let you know that the game against Kentucky on Monday night will be my last game as a college basketball coach." You could just hear the air go out of that room. And I never forget Andre McCarter, our point guard from Overbrook High in Philadelphia, brought everybody together and said:
"There's no way we're gonna let coach go out not being a champion. We have to win this next game against Kentucky."
Against Kentucky, our backup center Ralph Drollinger had the game of his life, McCarter had 14 assists and Richard Washington was named the tournament's Most Outstanding Player. We wound up beating them playing just six players. Kentucky had a really good team. Goose Givens was a freshman. Kevin Grevey had 34 points. They had Rick Robey, Mike Phillips, Bob Guyette, a lot of big strong guys. Joe B. Hall was the coach. We wound up successful in that final game and sent Coach Wooden out with his 10th National Championship. I have taken a lot of pride for the rest of my life that he went out as he deserved, as a winner. That next morning at breakfast, Richard Washington and I were sitting down at breakfast in the hotel dining room and Coach Wooden came down and sat with us. I asked him, "Coach what's going on? Why are you giving it up? We had thought we would at least have a chance to play for at least three years or maybe even four. I just got two but I'm not complaining." He said, "I didn't promise you guys I'd be here all four years because I didn't know whether I would be able to hold myself to that. The one thing that really got me was that after we won the national championship, a fan came up to me and said, 'Last year, you guys blew it when you lost to North Carolina State and this year, we did it. We did it this year unlike last year when you blew it. "They really drove the point home that I made the right decision and I'm just tired." Coach would always say to the coaches that he liked that he hoped they would win a national championship. For the coaches he didn't like, he would hope that they would win more than one because the pressure increases every time you win: People start expecting that every year. He got out at the right time. RAY: What about after he left?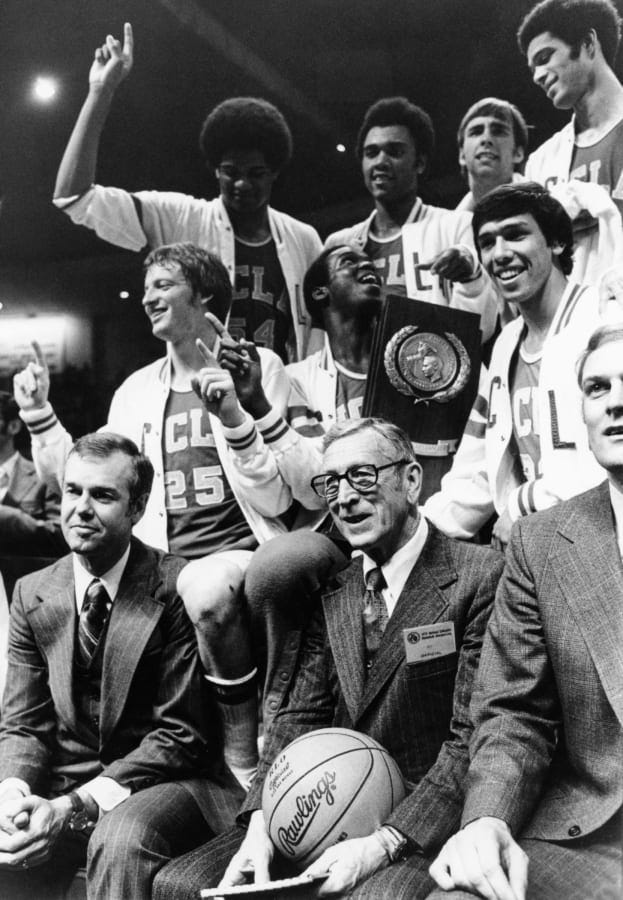 Mar 31, 1975; San Diego, CA, USA; FILE PHOTO; UCLA Bruins head coach John Wooden (center) poses with his team and the NCAA championship trophy at the San Diego Sports Arena after defeating the Kentucky Wildcats 92-85 in the 1975 NCAA Men's Final Four to become the national champions. Mandatory Credit: Malcolm Emmons-USA TODAY Sports
MARQUES: After he left, Gene Bartow took over. Wooden's assistant Denny Crum thought he had a good shot of getting it and was prepared to have a press conference the next day saying that he was putting his name in as a candidate for the job. JP Morgan, our athletic director, and Denny had some issues. Gene Bartow had actually been offered the job in the event Coach Wooden decided to retire. But Denny Crum was about to throw his hat in the ring with no chance of getting a job. Coach Wooden heard about that and called Denny up to his room and told him that Bartow would be named his replacement. So Denny changed the press conference around to say that he was happy at Louisville. Bartow had taken a great Memphis State team to the championship game with Larry Finch, Ronnie Robinson and Larry Kenon. The issue with us as a team was that we were so used to doing things Coach Wooden's way, like not looking ahead to your next opponent, just focusing on yourself. And Coach Bartow was a little more conventional when it came to scouting reports and really detailed information about the opponent, and that was just something that we weren't used to. Bartow and his assistant Lee Hunt had that Southern flavor in terms of how they talked and described things. Our first game of the year, we played the great Indiana team with Quinn Buckner and Scott May, the last team to go undefeated. We got this three-inch scouting report with some odd verbiage like: "Wayne Radford. He's so tough, he'll fight a buzzsaw. And Kent Benson is meaner than a junkyard dog!" So the late Gavin Smith and I were reading this stuff, and Gavin gives me this Valley Boy look that meant, "What the hell is going on?" It wasn't all that unconventional; it was just that we weren't used to it. That was kind of a precursor for things to come. Coach Bartow was 52-9 over his two years as head coach and got to the Final Four during my junior year in 1976. We lost to Indiana again in the rematch game by 10 to 12 points. We did a really good job, but people were used to Coach Wooden and championships. I had a good year junior year and made the All American Team. Going into my senior year, I was thinking about going pro. I'd been talking with the Denver Nuggets and their General Manager, Carl Scheer. Then some things happened at the last minute where the NBA found out that Denver was going to sign me without me going through a draft process. This was right before the merger in 1976. The NBA told Denver that if they signed me right out of UCLA without going through the proper procedures, the ABA should forget about the merger. So Denver backed off, and that put me back into the draft after the deadline. Coach Bartow called up Walter Byers of the NCAA, and we had a conference call with him and asked about this arbitrary deadline that the NBA said I couldn't take my name out of the draft after. Byers said that that was an NBA, not an NCAA, rule. He said that I could take my name out two minutes or even 20 seconds before the draft. So I took my name out at that point. I didn't like the way things had gone down. I came back my senior year and had a great season, averaging 22 points and 11 rebounds a game. Bartow would always tell me to take 25 to 30 shots a game because I was shooting around 60 percent from the field. But having played for Coach Wooden, it was hard to play with that kind of a mindset and dominate the basketball to that degree. But I had a great year and became the first Wooden Award winner in 1977. Winning the first award named after a coach that I loved and respected so much is one of the highlights of my life. RAY: So, instead of Denver the previous year, you wound up with Milwaukee. That must have been quite a culture shock coming from LA. MARQUES: I know Kareem Abdul-Jabbar had his issues there culturally. Kareem grew up in New York, went to college in Los Angeles. I grew up in Los Angeles after moving to California from Louisiana at five years old. But LA is all I know: sunshine and beaches and that kind of lifestyle. The only thing I knew of Milwaukee was from what I had seen on Happy Days and Laverne and Shirley shows back in the late 70s. It looked like a quaint enough city. I was just excited about having an opportunity to play in the NBA. The one thing that always bothered me is that I thought I should have been the No. 1 player picked in that draft. But at that time, there was a racial component involved. There was a lot written by the media in those days that the NBA had too many African Americans. There was a quota system in the mid to early 70s, where teams, especially Southern and Midwest teams, would always have six or seven white guys on the roster. So the league was looking for a really good white player to have as an attraction to the corporate sponsors that they depended on a lot for revenue. Kent Benson was picked No. 1. Kansas City had the No. 2 pick. They took Otis Birdsong. They already had a small forward, Scott Wedman, who was a good player and a white kid out of Colorado University. He was a great shooter and had a great body. My teammate Richard Washington was playing for Kansas City at that point. He had left a year early. He told them that Wedman was a good player but that Marques Johnson is on a whole other level. But they felt like Wedman was good for that market in Kansas City and was a solid enough player, so they passed on me at No. 2. The Bucks traded Swen Nater to the Buffalo Braves to move up, and they drafted me at that spot. It was a bit of a downer not to be No. 1, but I used that as fuel to show the world. I averaged almost 20 points and 10 rebounds a game, and I was runner-up to Walter Davis for Rookie of the Year. Bucks Coach Don Nelson and I had had a lunch meeting before the draft. I was always a fan of his with the Boston Celtics and liked how they played. His philosophy was to bring that Red Auerbach Celtic mentality to Milwaukee. Everything we did was based on what he did in Boston. I was a great player. I knew how to play the game. I had great coaches: My dad, Willie West, John Wooden and Gene Bartow. And Nellie showed me some of the nuances of being an effective NBA player: How to run in transition, and how to pick and choose your spots. He taught me so much. My teammate Brian Winters also showed me a lot that helped me become a really good player right away. They each helped to accelerate my development through what they were able to bring to me in terms of mental approach to the NBA style of play. RAY: Your team had a run of great seasons but never won a championship. I think your last five seasons, the Bucks finished first in the conference. You had a great collection of players, including the ones who came in the trade for Kareem. MARQUES: Yeah, we had it going on. We started out green and kept growing. The only problem was that we either had to go through the Boston Celtics with Larry Bird, Kevin McHale, Robert Parish (and later Dennis Johnson) and that crew, or the Philadelphia 76ers and Dr. J., Bobby Jones, Maurice Cheeks and Andrew Toney, aka. the Boston Strangler. The year that we were really primed to make a championship run, the Sixers had picked up Moses Malone in the offseason.
There were three Eastern Conference teams that won at least 60 games. The Celtics and Sixers won 62, and we won 60 that year, but we just did not have quite the firepower we needed.
We traded for Bob Lanier my third year at the all-star break and wound up going 20-6 the rest of that season. But he was 32 years old. His knees were not in great shape at that point but he was still a terrific talent.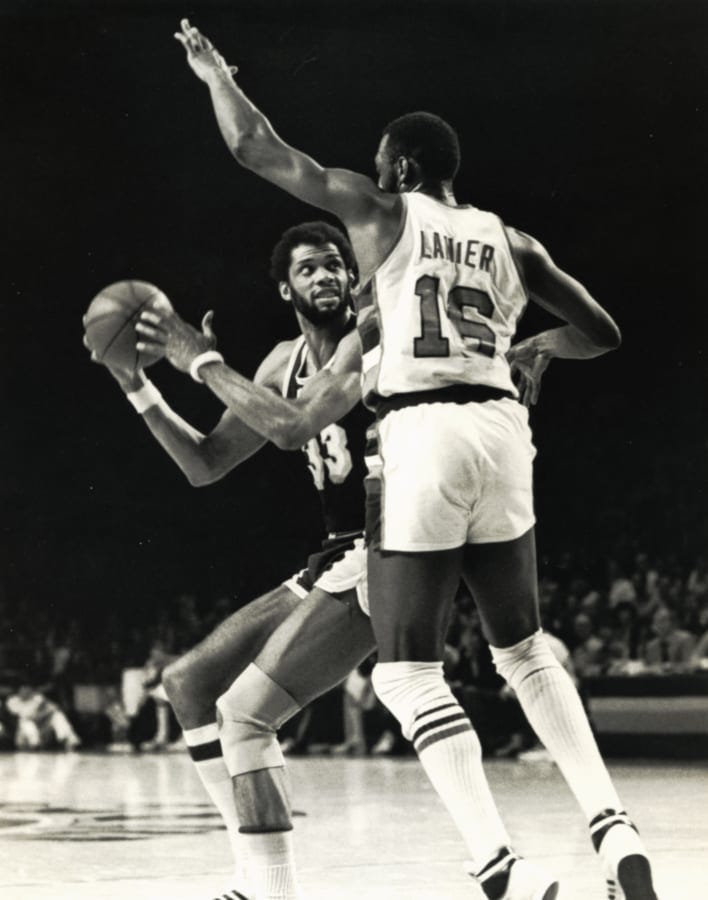 Nov 1981; Milwaukee, WI, USA; FILE PHOTO; Los Angeles Lakers center Kareem Abdul-Jabbar (33) in action against Milwaukee Bucks center Bob Lanier (16). Mandatory Credit: Malcolm Emmons-USA TODAY Sports
I have always bemoaned the fact that if we could have gotten him a couple of years earlier, he probably would have been the difference-maker. He was that good, that tough, both physically and mentally. He was our enforcer and is one of the greatest athletes I've ever been around. I was never able to beat him in a game of tennis. He was so competitive. And so nimble for a guy with size 22 shoes. He could move those 22s around quicker than you'd ever imagine, and he was a great leader and great role model. I'll always have a special place in my heart for having been able to play with that kind of a Hall of Fame-caliber center, even if only for a couple of years at the tail end of his career. We were close a couple of times. One season we lost the seventh game in Philly to the Sixers by one point. I had 36 and nine in that game. We also lost a seventh game to the Sonics in 1980. We were knocking on the door of getting into the conference finals a couple of times, but we just didn't have enough to get over the hump. RAY: There's a famous story of you being the first person to be referred to as a point forward. You weren't the first point forward, but you came up with the name when you played for Nellie. MARQUES: There's some other people out there that have different versions, but here's the real version, the truth. We're playing against the New Jersey Nets in the 1984 playoff series. We were heavily favored but were tied one to one because we had had a spate of injuries to our point guards, including Tiny Archibald. So Mike Dunleavy, Sr. tried to advance the basketball against the quickness of Sugar Ray Richardson and another great defensive guard who went to Crenshaw High School just after me, Darwin Cook. They were stripping Dunleavy every other time he tried to bring it up the court. So with the series tied one to one, we went to New Jersey for Game Three and Don Nelson at that morning's shootaround told me he had this idea to relieve the pressure from their guards. He wanted me to bring the basketball up the floor. I was being guarded by Albert King, but I played the four position late in games and would be matched up against Buck Williams. Junior Bridgman would play the three. So he put me on the court and showed me how he wanted to run the offense through the forward position. We were going to run a UCLA high post cut, and he said, "Instead of having a guard dribble down and pass to a forward, you just dribble to the forward spot, and we'll have Sidney (Moncrief) cut off the high post." There were other options and other plays he showed me as well.
Afterward, my comment was, "So instead of a point guard, I'm a point forward." He thought about it for a brief moment and then told me that he liked it: "Yeah my point forward."
That was the first time that term was ever uttered. I don't claim to be the first one who played it. There were players before me who played it a lot better than I ever did. I did it out of necessity as a last-ditch effort to relieve defensive pressure. But Johnny Johnson of Seattle did a great job. Robert Reed, when he was down in Houston, ran it. Maurice Stokes used to run that position and Rick Barry in 1975 averaged almost seven assists a game running the offense from the forward position. But I was the first one to utter the phrase "point forward". That's my claim to fame. RAY: You were traded to the Clippers in September 1984. Is it true that you then injured your neck by running into Benoit Benjamin?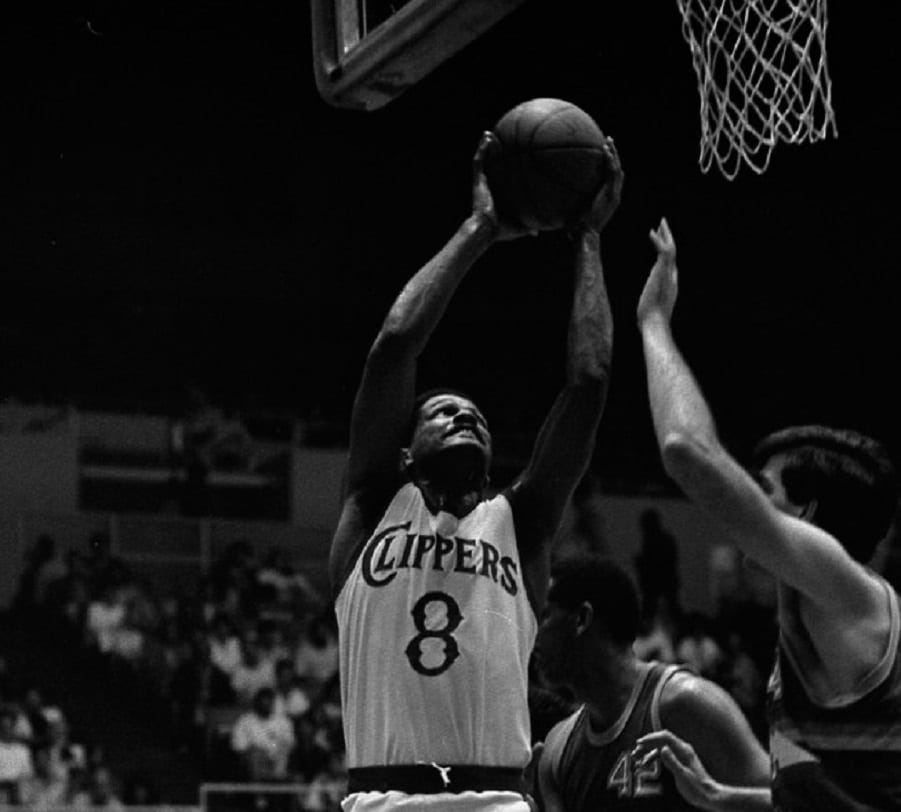 Marques Johnson #8 of the Los Angeles Clippers goes up for a shot. Circa the 1980's.
MARQUES: I got traded to the Clippers right before the season. The Clippers' bad luck just followed me around. My first day as a Clipper at practice, Jimmy Lynam was the head coach and Brad Greenberg was his assistant. They had us running this 2-on-1 drill where the defender had to try and strip the basketball away from whichever offensive player had it last and was trying to score. My very first time doing it, I jammed my hand a bit on the shirt of Rory White, one of my teammates. I told Greenberg, "This is dangerous, man." He says, "This is how we do things in LA. I don't know how you did it in Milwaukee, but just do the drill." So my next trip up, same situation, I reach in and try to strip the ball. This time I catch my little finger on the bone or chest of Michael Cage and I hurt my hand. I broke the fifth metacarpal in my shooting hand on the first day of practice. The crazy part is that the guy right after me, the late, great Derek Smith reaches in with his left hand and breaks the little finger on his left hand. After these two broken digits happened back to back, they decided to trash the drill. That was the deal in my first year. As a result, I only shot 45 percent from the field, my lowest ever. I still averaged 17 points a game, but it was a major struggle. My second year, I had a great bounce-back season. I averaged 21 points and was an all-star for that great All-Star Game in Dallas where Spud Webb won the dunk contest. That third year in November I had worked that whole summer on adjusting the release point on my jump shot. I was close to 30 years old, and I was one of the first guys to have a dedicated full-time workout guy. My personal trainer was named Malik Mansour. We had been working together since I was a sophomore at UCLA. He was trying to change my release point so that I didn't have to use as much legs on my shot since I was getting older. I was struggling at the start of the season to get that shot to fall on a consistent basis. On November 20, we played the Dallas Mavericks. In the first quarter, my shot was falling like it hadn't fallen earlier that season. I was knocking everything down. I got 10 points in the first quarter. Early in the second quarter, I get a rebound and Ralph Lawler⁠—our Great Hall of Fame broadcaster⁠—said, "Marques Johnson jumped as high as he's ever jumped as a Clipper to get that rebound." But when I went to push the ball up the floor, Benoit Benjamin, my teammate, was standing there pushing it. And the last thing I remember seeing is his number double zero, and I slammed my forehead into his Solar Plexus, which snapped my neck back. It turns out that I had a ruptured disc. I went numb. I was terrified. I couldn't move my body. I was kind of locked in a position with my upper body where I couldn't move. I went down to the floor. They had to carry me out on a stretcher. And that was pretty much it. I got different medical opinions. Some said play. Some said, "Get a spinal fusion: take a bone out of your hip and infuse it into the neck and you may be able to come back. We're not sure." I didn't get the surgery. I sat out two and a half years and then tried to come back with Golden State but didn't last long there. The end of my career basically was on November 20, 1986, when I sustained that injury. RAY: So Benoit wasn't limited to wrecking careers of only GMs and coaches. MARQUES: He was a character. He struggled with weight issues, but one season he got himself down to a solid 248 pounds. He had a great finish to that season where he was averaging almost 20 points and 12 rebounds and four blocked shots over the last 17 games. And so we were expecting big things for him that next season. And I talked to Coach Don Chaney when we reported for the next season and asked him how Benoit was doing. He told me that Benoit had looked great at 260 but then went on a two-week cruise and came back at 285. RAY: Everybody thought that they could save him from himself, even Willis Reed who had coached him in college at Creighton. MARQUES: He knew Benoit and thought he could make it work. He was a great talent and a great young man, personality-wise. I knew we were in trouble when they called me down to the sports arena to meet with him, after we had drafted him. They called me and Norm Nixon down to the Sports Arena, and the first thing Benoit asked me was, "You got Kareem's phone number?" I said yes and he asked me to tell Kareem to come down so that he could play him one-on-one! Kareem had just gotten out of the finals and obviously was not going to do that. He said, "Call him up anyway." At that point, I knew we had a great guy who was naive about the workings of professional basketball. RAY: Can I ask you to name your all-teammate team and your all-opponent team for the years that you played?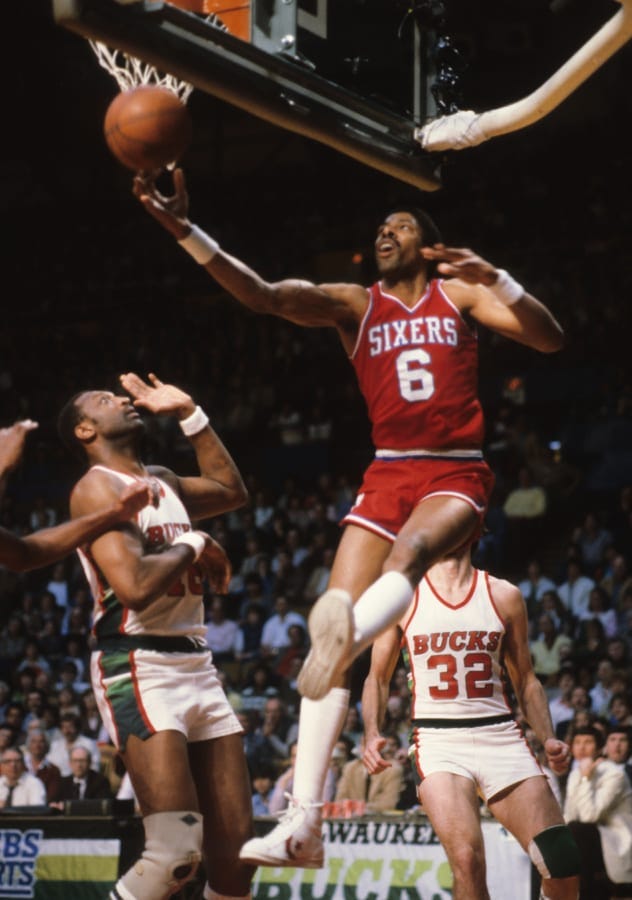 May 1981; Milwaukee, WI, USA; FILE PHOTO; Philadelphia 76ers forward Julius Erving (6) in action against the Milwaukee Bucks at MECCA Arena. Mandatory Credit: Malcolm Emmons-USA TODAY Network.
MARQUES: For the opponents, I must start with Dr. J. I was a big fan of his since high school when he was with the Virginia Squires and the ABA Game of the Week was on CBS. I have to put Larry Bird on there because of his intelligence and skill. People talk about how smart he was as a player, but he was more than smart. He was also tough and quicker than you'd think. I'd have to put Bernard King on that opponent team because I'm going with forwards that I matched up with. He was a headache, a nightmare. He worked so hard for position. He beat you up when he tried to establish offensive position. He was always a tough matchup. I'd also pick James Worthy because, at 6'9″, he was so quick and athletic. He was three inches taller than I was and was really tough to have to contend with. And then I'm going with a guy that many people haven't heard of. He was my toughest matchup as far as defending me. His name is EC Coleman. He was Second-Team All-Defense in 1978-79. He was 6'8″, about 210 to 215, quick, strong and tough-minded. We would have some great battles early in my career. He gets no love, and few people have heard of him. But EC Coleman was a terrific, terrific defensive player. As for teammates, I'll start with the Bucks. Sidney Moncrief, recent Hall of Famer, was a really tough two-way guy, maybe the second-best two guard of that era behind Michael Jordan. He would give you 20 plus points and play lockdown defense. I'm putting Junior Bridgeman on this team because he was always a guy that, coming off the bench, was going to give you 16 or 17 points a game. He is one of the most genuine people that I've ever come across and he's one of those glue guys that you just need. He was solid as they come, "a salt of the earth" type that I love to this day. He would give you the shirt off his back to help you out. I chose another guy that I played with as a Clipper, Derek Smith. He was on the precipice of becoming a perennial all-star. He played at Lousiville and was 6'6″, about 220 pounds. There's a YouTube clip from when we played the Bulls. He and Michael Jordan each had 30 plus points in that game, and it shows a great dunk he had over Michael where he showed it and then kind of scooped it around and then dumped it going full speed. Norm Nixon and I always said that he should have been a seven-footer because he had the biggest hands. He hurt his knee during the fourth year in the league and was never quite the same after that. Another all-teammate guy would be Dave Myers who was a forward at UCLA with me. We played together my first year as a Buck. We made the playoffs, took Denver to seven games and lost in the semis in the Western Conference. My second year, he sat out with sciatica. He came back my third year and was a great leader. His nickname was Crash because he was always diving on the floor. Mickey Johnson and I were roommates on the road and just really clicked and bonded and have a lot of love for each other. Chris Mullin was a guy who overcame some personal issues similar to what I had been dealing with. We had two really candid conversations. He was one of the hardest working guys. He would drag me along for 6 a.m. sessions on the Stairmaster, every day, and I have a love and affinity for Chris. He was one of the greatest all-time shooters in the history of basketball. When I was with Golden State, he took my son, Kris, (who played at UCLA a number of years later) to a big wrestling match at the Oakland Coliseum. Chris, being a Warrior, had access to the locker rooms. They went in the locker room, and all these wrestlers were in there. And they told Chris and my son to get out. "You don't belong back here. Get your ass out." They were actually close to coming to blows. Here's my son, about 13 years old at the time along with Chris Mullin, going against Bobby The Brain Heenan and all these other wrestlers in that locker room. Chris Mullin, the tough New York kid, wouldn't back down: "Forget about those guys. That's my locker room."