Mark Jones Named New PBP Announcer For Kings
Get to know Mark Jones who has been named the Kings' new play-by-play announcer From earlier this year:
Meet Mark Jones: From College Player to NBA's Play-by-Play Ringer
by Ray LeBov
Simply put, Mark Jones understands the game. He sees how all the pieces, players and plays fit on a basketball court, sure, but the former Canadian college player also knows how to synthesize and communicate all those moving parts to the audience while always following Rule No. 1: Let the game do the talking. Just like a valuable teammate knows when to take the shot, pass or just do the unseen dirty work, Jones has perfected the balance of leading center stage while also ceding it. Having expertly covered a broad variety of sports during his 29 years with ESPN, he often teams with legendary analyst and former coach Hubie Brown on the network's NBA telecasts and is widely acknowledged as one of the league's best play-by-play announcers. RAY: You were an all-conference basketball player at York University in Toronto and were inducted into the university's Hall of Fame. How did that experience transition to a career as a sportscaster? MARK: I grew up watching sports and playing sports. My older brother, Paul, also played at York University and is also in the Hall of Fame. So it was just kind of a natural path. Once I wrapped up my basketball career at York, I wanted to find something that a guy with an economics degree usually wouldn't do. The last game of my collegiate career was telecast on TSN, which is Canada's version of ESPN. I was interviewed after the game, and I asked Mr. Watts, the guy who interviewed me, "Do you have any jobs for students or soon to be grads? Because I'm pretty well versed in sports, and I'll do anything you need me to do." He said, "Young Mr. Jones, call me on Monday morning." So, Monday morning at nine o'clock. I called Peter Watts. He arranged an interview with one of the producers who was doing the hiring, and literally a week later, they told me to show up and I had my first job in television. Right after stepping off the basketball court. I told him that I had a little bit of experience doing radio on campus at York. I had done some girls basketball play-by-play and some sportscasts for the campus radio station. So a week after finishing my basketball career at York I was working at TSN as an editorial assistant. That meant watching as many as two or three games at once—whether it was an NBA game, a baseball game or a hockey game—and logging all the crucial points in those respective games. I was then making up a highlight package when the night was done, writing a script to each package and giving it to the anchor. RAY: You were known as a very cerebral player in college. You were, among other things, an outstanding playmaker and defender, and that seems to have carried over in a number of ways in terms of how you broadcast. Would you agree with that? MARK: Yes. I appreciate the compliment. I think that because I played at the collegiate level that my call and play-by-play tend to be a little bit more detailed than the average play-by-play guy. I'll see two guys standing at the elbows setting screens and the point guard coming off the screens, and I'll call that horns formation. I'll incorporate some things that I already know from having played. Instead of calling a pass a pass, I might call it a dribble handoff. Those little nuances have leaked into my play-by-play. And that helps the analysts that I work with because I can set them up and explain things on a little higher level at times.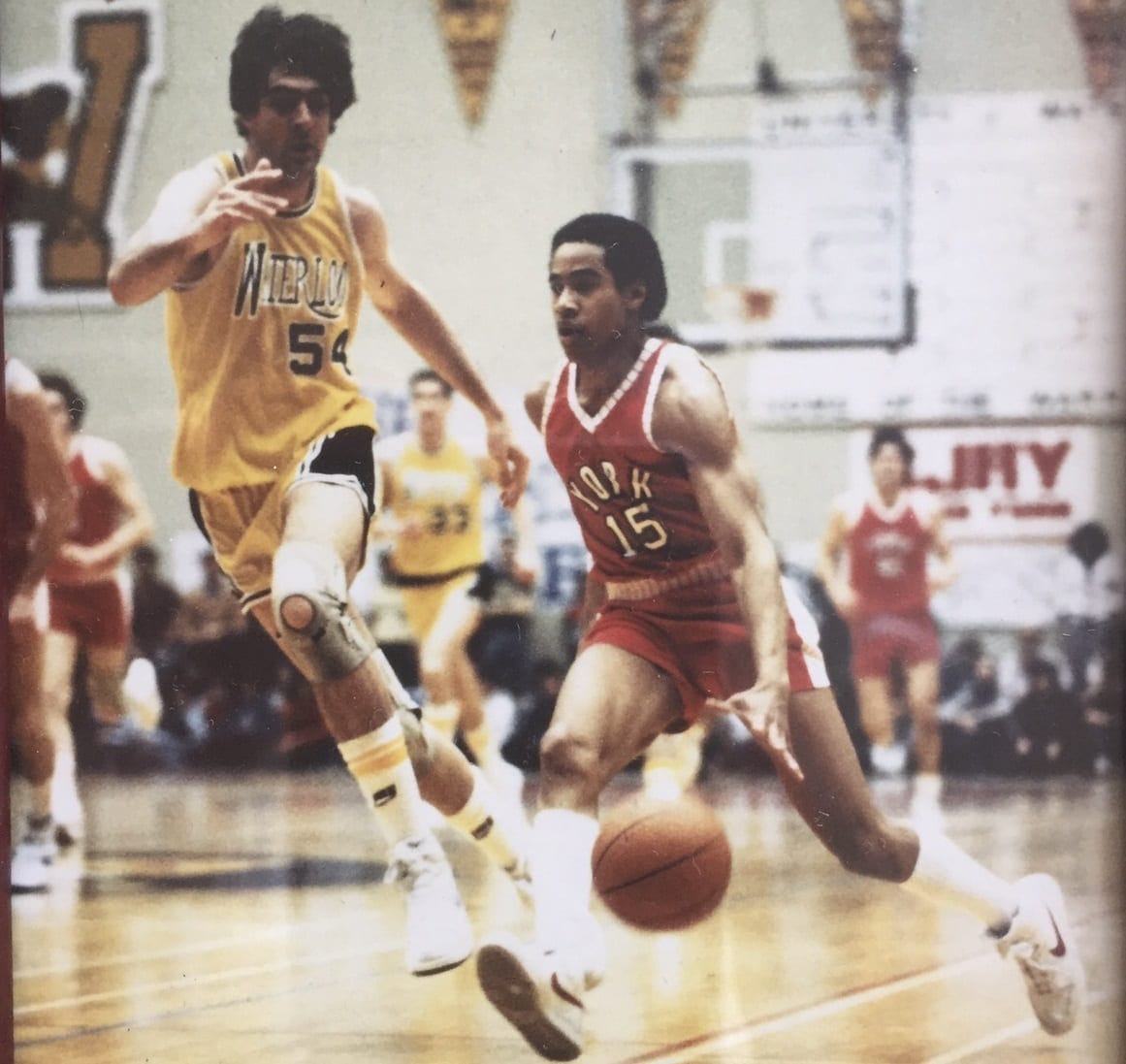 RAY: That raises an interesting question: It seems that most former players at your level who go into announcing become analysts. One exception is Chris Marlowe who does Nuggets games. Why did you choose to do play-by-play rather than be an analyst, which you're also obviously eminently qualified for? MARK: I think it was because of my studio background. I started off as an editorial assistant and then became a studio anchor. My anchoring duties corresponded more with play-by-play than they did as an analyst. I think I gravitated more towards the play-by-play because of it. And I like the writing part of it. The introduction part of it, the being the traffic cop, being the point guard of the broadcast. RAY: You're in an industry where longevity at one location is not typically the norm. You've been at ESPN for 29 years. How did you get from TSN to ESPN? And how do you explain that longevity there? MARK: It's wild man, I think about back in… probably April of 1990. I was taking inventory of my career, three years in at TSN. I had had a pretty meteoric rise from an editorial assistant logging highlights and making scripts for the anchors on the sportscast to becoming a field reporter and hosting the Toronto Blue Jays' magazine show… and then to an anchor doing the nightly main sportscasts at 11 and 11:30. At one point, I said to myself, "I love and enjoy what I'm doing, but doing NHL highlights and baseball isn't my thing." I had a crazy thirst for the NBA and, at that time, the only NBA fix that I was getting was driving three-and-a-half hours down to Detroit to watch Pistons games. And I thought that I needed to try and make a move to satisfy my ambition. So I put a tape together and I got myself an agent out of New York. (Lou Oppenheim, who I'm still with.) I sent the tape out. A week later, I got a great response from a station in Chicago. WMAQ, which was the NBC affiliate. About 10 days after I sent the tape out, I went down to Chicago, interviewed with them and then flew back to Toronto and did a sportscast that night. Unbeknownst to my bosses, I was about to be out the door. I was offered a contract to do Chicago Bulls, Bears, White Sox and the Cubs in that great sports town. So I flew back down to Chicago a couple of days later to finalize the details. The next morning my agent calls me and says, "Mark, we're not going to sign with Chicago." And I thought, "Wow, what happened? Did they pull the deal, Lou, what's going on?" And he said, "No, ESPN and ABC want to talk to you before you sign anything. They've seen your tape too." So I flew down to New York the next day and met with Dennis Swanson, the head of ABC. And I'll never forget this seminal moment after meeting with him for a couple of hours: I was playing on a Monday Night Football pinball machine that they had outside of Dennis Swanson's office on the 13th floor before I ended up flying back to Toronto. My agent called me and said, "Mark, you've got a great deal with ESPN and ABC. They want you to do college football play-by-play, host NBA today at ESPN and do college basketball and college football as well." And it was a done deal. So that was in June of 1990. And I can remember doing my first college football game in September of that year. 29 years later, here I am. As for the longevity, I learned something early in my career: Be on the radar, but be just under the radar. If you want to work, you have to prepare. You always want to be ready. I worked with Tim Brant early in my career, and he was a great influence on me. He was my first college football partner. I also had the opportunity to work with Dick Vermeil, and I saw his preparation for his college football analyst work when I was the sideline reporter. Those two and Brent Musburger are three great guys that I had an opportunity to be mentored by. Brent taught me a lot in terms of just being a fan of the game and having passion and being excited and each game having its own unique storyline. Dick Vermeil taught X's and O's and tactics and being able to sink your teeth into a football game and how to explain it. And Tim Brant taught me that the game should always be fun and that it's entertainment. Those three things have been the key to my longevity and just being able to remain a fan and never be jaded. Because it's easy to be jaded sometimes. RAY: I'm starting to think that I should write the screenplay of your life. MARK: It's a pretty cool story. I think about the fact that I sat down with one of my bosses at TSN in Toronto in May of 1990 and asked him to listen to my play-by-play tape. And he told me, "I don't think you're ready to work at the networks in the United States yet." And literally three weeks later, I had an offer from ESPN and ABC. You know, I love him to death still, but I kind of feel like he was the guy that cut Jordan from his varsity team.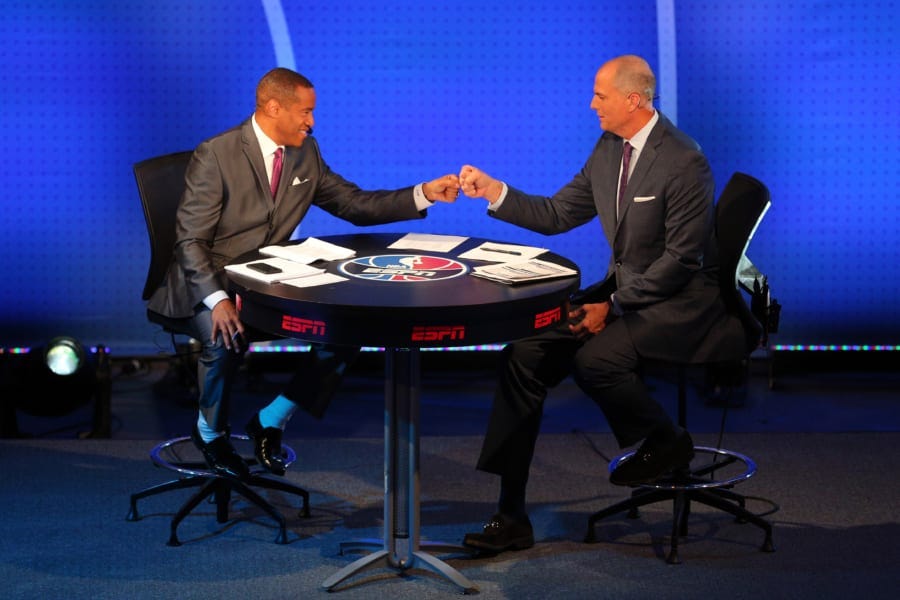 May 17, 2016; New York, NY, USA; ESPN broadcasters Mark Jones (left) and Jay Bilas fist bump before going live during the NBA draft lottery at New York Hilton Midtown. The Philadelphia 76ers received the first overall pick in the 2016 draft. Mandatory Credit: Brad Penner-USA TODAY Sports
RAY: You spoke about preparation. When I hear a broadcaster who is unprepared, I want to ask: Did it ever occur to you to do some homework? Preparation is so crucial and critical to doing the job the right way. And one of the things that is obvious and stands out in your work is how prepared you are. MARK: If I have a Portland / Houston game coming up on a Sunday afternoon with Hubie, for example, I'll track each of those teams during the course of the week starting around five days out. Because any more than that and too much can change. I'll look at the trends. I'll watch tape from their most recent games, whether it's the night before or two nights before, if it's not a back-to-back. After watching the tape, I'll make a few phone calls to different NBA scouts that I speak to on a regular basis to get a feel for what each team's tendencies are that I may not have seen on the tape. I'll even call a player up if needed. I'll call up a coach from one of the teams that we're doing. If I know an assistant coach or a head coach that I can shoot a text to, I'll shoot them a text: "Hey, coach, how you guys doing?" I'll ask them what's the key to their recent run or recent slump. And then the last thing is when I get to the actual game site the day before, I'll get my charts ready and print my charts out with all of the stats from the game notes. And the next day on game day, we usually interview a player from each team if we can get them and then do game interviews with each of the coaches. So that's really kind of the finishing touches of everything. By the time you get to the respective head coaches, you have a feel for what's happening. And just to get filled in on any late game changes, I'll ask the starting lineups from each team. I'll ask each of the coaches to give me a quick thumbnail sketch on where each guy is. For example, it might be Eric Gordon coming back from an injury to his knee. I'll ask (Houston Rockets coach) Mike D'Antoni how he looks and whether he will be on a minutes restriction. How much do you plan on playing him tonight? Is he going sit out the next game? Things like that. If it's Portland, I might ask Terry Stotts what is it about Damian Lillard that has got him now averaging 48 points over the last six games… Any kind of great anecdotes I can get too. Part of my preparation and part of my job as a play-by-play guy is to humanize the players. Everybody knows that Damian Lillard is averaging 28 points a game. What people may not know is that, on Thanksgiving, Dame has the entire team over to his house for dinner, that former teammates will call him up and FaceTime with him from time to time. They don't know that he is one of the best leaders in the NBA who treats the all-star the same as he does the 15th man on a 10 day contract. I'm big on anecdotes. I'm big on stories. I think that adds another layer to the broadcast to be able to see and know what a guy is doing beyond just jump shots. RAY: You've worked with a lot of really outstanding analysts, including Dr. Jack Ramsay and Hubie Brown—two of the greatest. What have you taken from those experiences? MARK: Wow. Two basketball encyclopedias. When I think about Jack Ramsay, those Tuesdays that I used to share with him in the studio taping the NBA today show for seven, eight years, I think of the nuanced observations that he would make about a game. They were fascinating, and he had so much energy. He looked at the game in terms of matchups, how and when to get a guy on the basketball, plays that teams were running. It was a unique kind of prism that he saw the game through, and Hubie is very much the same way. I love the fact that through the years he has been able to be chameleon-like and transform. He's seen so many versions of the NBA: from the 70s when he was with the Hawks, to in the 80s with the Knicks, then to the Memphis Grizzlies to where it is now. He is able to still break the game down in a really simplistic way because the NBA all comes down to matchups and how you exploit those matchups even in the new pace-and-space way. They each always saw the game at a different kind of level. And when I'm calling games with Hubie, I've got to catch myself at times from listening to what he says and then just kind of just take a few minutes to digest it. Because sometimes it's so profound that it can get lost on the viewer. He's so good and so insightful. RAY: Your teamwork with him is something very special. It seems that your experience as a high-level, high-IQ player informs your ability to converse with him without being over the heads of listeners. That's a real art. MARK: I appreciate you saying that. I think Hubie and I have tremendous chemistry. I consider myself an old soul in the basketball realm. Some of my greatest conversations with Hubie have been about the old Buffalo Braves, who I grew up watching with Randy Smith and Ernie DiGregorio and Jim McMillan. And Bird Averitt. He'll take one of those names and give me a story about the guy that he coached against. When you are grounded in that kind of love for basketball, that's what makes us click, for sure. RAY: Another analyst who has great potential, in terms of understanding and communicating about the game was Kara Lawson, who you worked with doing SEC games. She is coaching now, but I can see her becoming one of the greats in the booth if she chooses to go in that direction. MARK: Yeah, Kara was fantastic. As you said, we had worked college together, but the first time we ever did an NBA game together was under adverse circumstances. We were doing a game in Oklahoma City. (I can't remember who the other team was.) But I want to say this was the relocation year after Hurricane Katrina… We were doing a game, and there was an ice storm. And my analyst was supposed to be Tom Tolbert. But Tom couldn't make it because of the inclement weather and Kara was our sideline reporter for that game. So she slid into the analyst chair and, not surprisingly, did a fantastic job. She has great observations on the game; she has a great feel for the game. She's not that far removed from being a high-level player herself as a champion. I think that allows her to explain things in a way that a lot of people can't. She's very talented. I was happy for her when she got the opportunity with the Celtics this year after working a year with the Wizards as their color analyst. RAY: Our goal here at Basketball Intelligence and The Basketball Writers is to enhance our readers' appreciation, understanding and enjoyment of the game. Your approach seems quite similar to that—in that it's not about you, it's about the viewer. MARK: Yes. Basketball is a great game. For me, it's the best game on the planet, especially NBA basketball. They've got the best athletes in the world. The game is fast. The game is athletic, it's dynamic. It's imperious, it's forceful. It's close, it's intimate. Because you see the players. It's not a sport where you're thousands of yards away and the guys are wearing protective equipment and you can't see their faces or their expressions. For me, basketball is the perfect game for television in that sense because you are able to get the viewers close to the action with access that we wouldn't normally have. Sometimes I will have a conversation with a player who shares something interesting that I can pass on to the viewers: Maybe Jimmy Butler waking up at four o'clock in the morning to get his first of that day's two workouts in. I can tell them about Jimmy's journey from just outside Houston. I'll never forget the time he told me he faxed in his letter of intent to Marquette from a McDonald's and how he was basically abandoned from the time he was a 12-year-old. I don't think that you can tell those stories enough about players, and there's always a new chapter to a player's story. And there's the actual game. There's the excitement of the game that I enjoy conveying to viewers, and TV is such a powerful medium. I've had the pleasure of working in TV with some really talented producers and directors that give us these outstanding pictures of players and happenings on the floor. I've got the best job in the world. It's good to be able to let people know exactly how fantastic it is.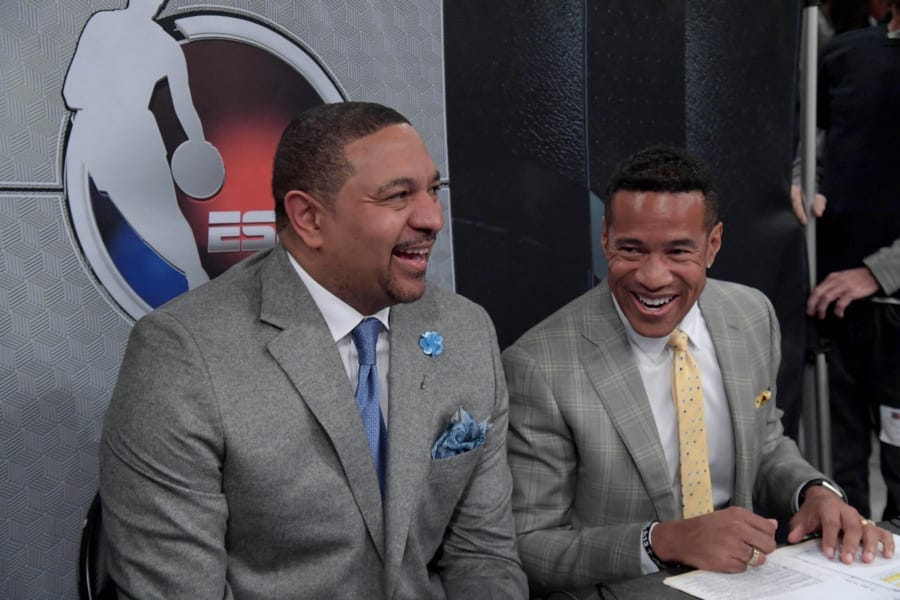 Dec 5, 2018; Los Angeles, CA, USA; ESPN announcers Mark Jones (right) and Mark Jackson (left) both call the game between the San Antonio Spurs and the Los Angeles Lakers during the first half at Staples Center. Mandatory Credit: Kirby Lee-USA TODAY Sports
RAY: Obviously, you're most known for your basketball work, but you've also shown great versatility by covering many other different sports. How do you like covering different types of events? And how is the preparation different for something that you haven't had a lifelong connection to? MARK: The next prevalent thing on my list is the number of college football games that I've done. I enjoy doing college football. It's a different type of preparation in terms of just the volume because you have a great deal of turnover in college. Steph Curry has been with Golden State for 10 or 11 years now. In college football, you get a guy for three years and then there's always somebody new as a backup or a starter at the vital positions. It's fun. I think some of the other stuff that I've done through the years has been awesome, too. World Track and Field Championships—including calling Carl Lewis' hundred-meter races, Justin Gatlin's races as well as Usain Bolt's. I really enjoy track and field. I'm a closet track-and-field junkie. I've done World Gymnastics Championships with Bart Conner over in Russia. My job has taken me to some great places, and preparing for track and field was fun. They talk about fast in basketball and fast in football, but track and field fast is something that is unfathomable. That's why I always hesitate to use world-class speed when I'm talking about football players because there's a difference between running, you know, a 4.4 40 and what sprinters do. It isn't world-class speed as opposed to a guy who's running a 9.8 100 meters! I've done speed skating, gymnastics and been a sideline reporter for the World Cup when it was here in the United States in '92. I've had a great run of things, and it all comes down to just getting your information and cramming. RAY: One of the things that fans and observers greatly appreciate about your work is that you don't do what we often hear referred to as "shtick". For example, you don't pretend that every garden variety play is the greatest play in the history of the sport. Have you ever been urged to inject anything like that by anybody at the network? MARK: No. One thing I learned early in my career is that you have got to be yourself. You have to be true to yourself. I get caught up in the game and I talk about it, and I call it as I would as a fan of the game. You have to pace yourself in such a way that a jump shot in the first two minutes of the second quarter of a ballgame… if it's a great shot over a triple team from 30 feet at the end of the shot clock… it can't sound as exciting as a potential game-winner, even though it's got to sound exciting. You have to have different speeds. You have to have a different cadence to your call. You have to have different rhythms to your call. You have to have different levels of excitement to your call. And I think that's when that's when you really become a professional.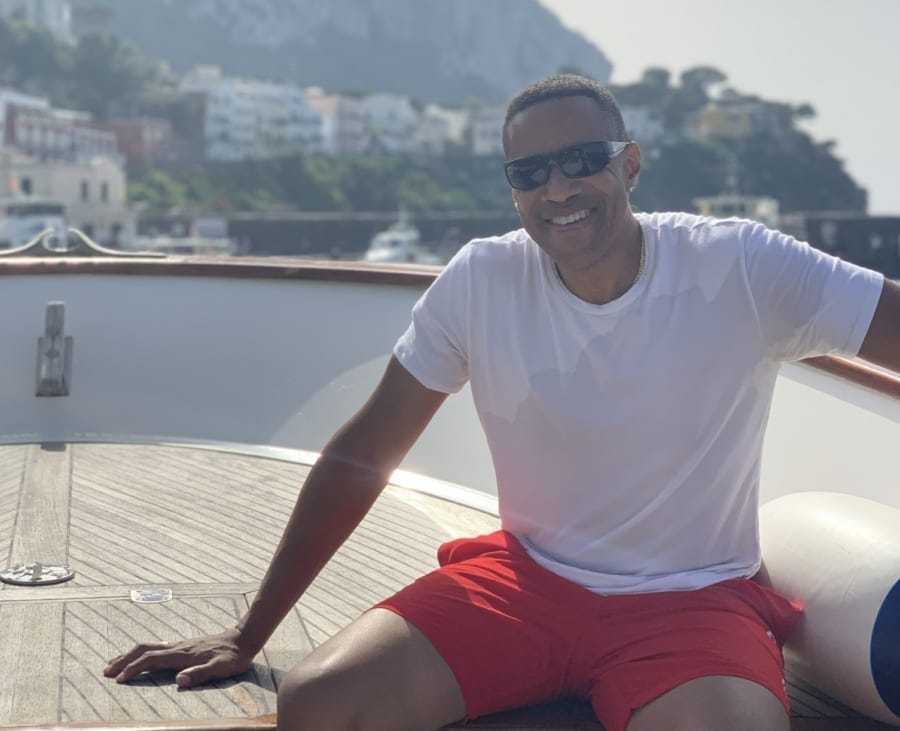 Photo via Mark Jones.
RAY: As a native Canadian, what are your thoughts and observations about the amazing recent progress in the game there, which has led to so many rising stars who are now playing in the NBA? MARK: I think it's fantastic. As someone who was born in Toronto General Hospital, I'm really grateful to see the boom of basketball that's come out of there with all the talent that's come out of Southern Ontario in particular. Guys like Andrew Wiggins, Jamal Murray and Tristan Thompson. Leo Rautins was one of the guys back in the day that was a player as well. Leo was actually two years ahead of me in high school. He went to St. Michael's; I went to Oakwood. And here's the secret about Toronto that people don't know. There has always been great basketball talent in that area. Nobody knew about it. You would get guys that would come and cherry-pick from time to time and run across the border from Buffalo or from upstate New York somewhere or drive up from Detroit, through Windsor and all the way up to Toronto and grab the odd player. The Toronto area has always been a great hotbed for collegiate talent, and now we're seeing NBA talent. It has a lot of people like my brother and I who grew up not playing hockey—because hockey has some cost limitations, and so it's easier to play basketball. Toronto is a great metropolitan area with a lot of talent. There are 3 million people in the Greater Toronto Area, and the basketball programs in high school and at the university and club basketball have done well over the years. I'm really not surprised at it. RAY: The number of players from there who are now making it at the NBA level is quite amazing. MARK: Jamaal Magloire is another guy that is from that area who I failed to mention. He went to Eastern Commerce High School, which was one of our rivals. I've seen a lot of guys come out of that area, I feel great about their success. RAY: You're used to a somewhat frenetic schedule which includes a lot of travel. How are you adjusting during the hiatus? MARK: It's been a chance to hit the reset button, go back and look at some of my tape and video and see where I can get better. See what I like and what I don't like. And make a few phone calls and stay in touch with some coaches, players and scouts and to take inventory after, you know 60 or so games. That's been good for me. It's been a real educational time. I'm just waiting to get back now. I've had enough time off. I'm also mentoring some up-and-coming play-by-play kids out there who are trying to get into the business in college and in their first jobs. So it's given me a wonderful opportunity to give back to some of those people. And I'm involved in the Tomorrow's Stars Foundation that's based in Las Vegas. They do great work with their on-air TV program and on-air classroom at the Las Vegas NBA Summer League. So being in touch with some of the students there and helping them by critiquing their work, and going over my own work is, it's been good. It's been different. This is literally the longest I've ever gone without watching a live game of any sort whether it was my daughter's high school basketball game or an NBA game on TV. RAY: If the season does resume, games will likely be played without fans in attendance. Have you ever broadcast in that context? MARK: Wow. Have I ever broadcast in that environment? Indirectly, yes. When I first started in the business, doing radio, I was calling women's basketball games that were so lightly attended, that you could hear the sneakers on the gym floor! You try to have the requisite energy for outstanding plays. There are times, though, where the game slows down and you can't help but be overheard by the players. If there is someone at the foul line, I don't want to be saying something like, "LeBron needs to get his free throw percentage up from 70 percent" and have him turn around and look at me and give me a dirty look. Because it's so quiet in the building, it's going to be different. It's going to be weird to do an NBA game in that kind of environment if it comes to that. And I think not only the players but the broadcasters are going to have to kind of find their own new energy level in terms of where Ground Zero should be for excitement because usually you feed off the fans. In television, especially, there are these wonderful moments where a team goes on a 15-to-1 run and they hit a shot and the opposing team calls timeout. You let the crowd take the microphone and they explode. But with no crowd in the building, that might sound or be a little different. It's going to be very different. If I had my druthers, I'd rather that not be the case. But if it's either that or not playing games, I'll go with that. Definitely want to keep everybody safe.